Myles Kennedy
,
Mark Tremonti
,
Brian Marshall
,
Scott Phillips
.
The names of four guys that will soon be sitting alongside the James Hetfield's, the Angus Young's and the Bruce Dickinson's of this world.
Why? Because they've finally done it, they've made an album that fully capitalises on the juggernaut-steam they've had powering them ever since 2010's
AB III
lead single
Isolation
propelled them into stadiums and onto mainstream talkshows.
How the fuck do you even begin to dissect the amount of progression these guys have made with this album? Is it the classically acoustic intro of
Cry of Achilles
that perfectly sets the progressive tone of what's to come? The teeth-smashing fury of
Peace is Broken
?
The Mayfield Four
-esque vocals of
Lover
that segue all the different parts of
Myles'
frankly godlike range into one exuberant exhibition of exactly why Alter are one of the best melodic hard rock bands on the planet?
It's obviously all of the above, and SO much more.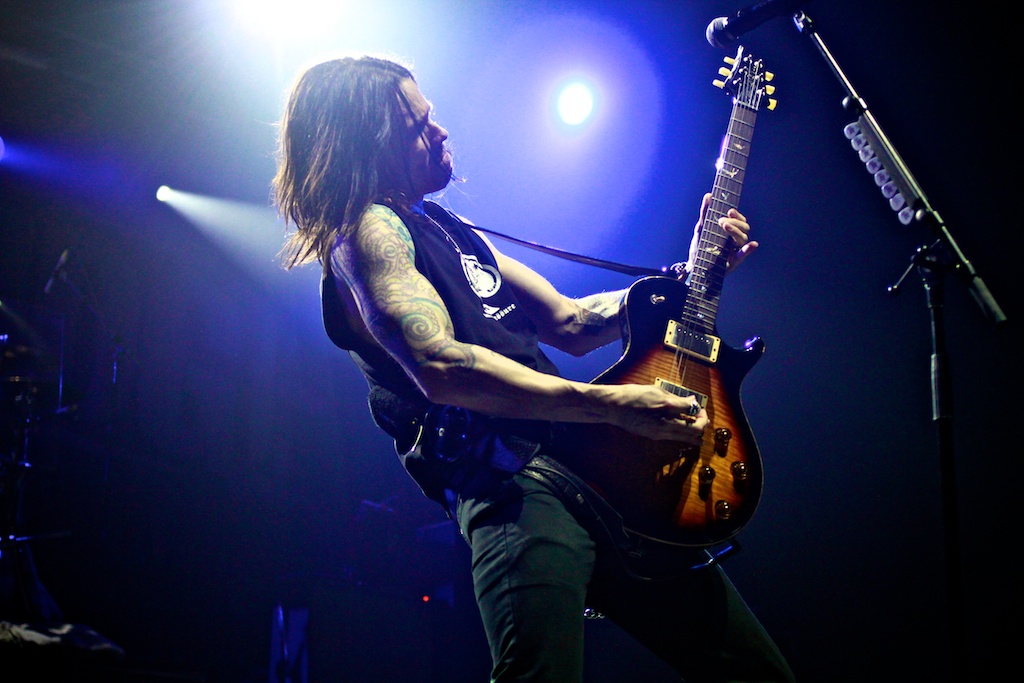 After perfecting the hard rock template on 2008's
Blackbird
and knocking it out the park on that album's anthemically gorgeous title track, overall
AB III
turned things down for a more sombre self-reflective affair, telling a personal story of faith lost and dreams destroyed with the questions that inevitably arise through the coming of age.
For many including myself this was more of an album for the fans, with it's
complex soloing
arrangements and incredibly dark subject matter. If someone would enquire as how to get 'into'
Alter Bridge
, I'd point them in the direction of
Blackbird
.
However, all that changes from now on, because Jesus.Horatio.CHRIST they've more than delivered with
Fortress
. With lead face-grinder
Mark Tremonti
flexing his speed metal chops on last years'
solo album
and
Myles'
time touring with none other than
Slash
turning him into one HELL of a phenomenal frontman, the always potent combination of these two can easily stand up there with the great singer/guitarist combos of all time.
It's a testament to Myles' exquisite tone and his resolute belief in what he's singing about that he can deliver such potentially dividing lyrics as those in
Cry a River
or the genuinely uplifting chorus of
All Ends Well
where he begs you to 'believe in love' as well as 'believing in yourself'. In the hands of anything less than the messianic
Mr. Kennedy
this may have been a sticking point, but with his angelic tone hitting home on every syllable, it's some of the finest delivery of his career.
Then after all that, you have the title track
Fortress
, and what an incredible ending to such a stellar album. Clocking in like opener
Cry of Achilles
at around the 7 minute mark, it acts as yet another monolithic track, bookending
Fortress
as a monumental work that's as brutally solid and time-withstanding as its namesake.
A complete pace change 4 minutes in heralds a shift into the supersonic, as
Myles
and
Mark
both open their blues-groove and speed metal chopshops respectively, trading off scorched licks with unrelenting aplomb, driving the album home with enough force to make waves our grandchildren will feel for decades.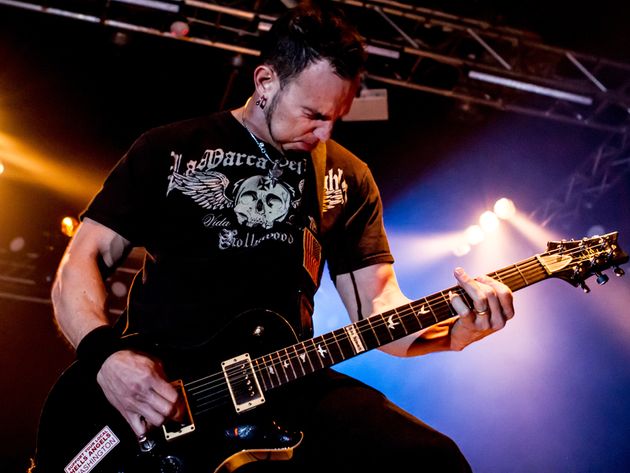 All of that is not to mention the little fan squeals any
Alter
-
devotee
will have at hearing
Tremonti
take lead vocals on the tremendous
Waters
Rising
, the B-tuned
Farther Than the Sun
which features a STUPIDLY heavy riff Periphery would be proud of, or the intro of
Calm the Fire
where Mark channels his inner Yngwie Malmsteen underneath
Myles'
softspoken delivery.
There's just as many hidden trinkets fans will cherish, as their are humongous stadium-slaying guitar lines and singalong chants that will carry Alter and their diehard fanbase to headline the hallowed
Donington
turf in the coming years.
Fortress
is the album of a career for four incredibly talented guys, all carrying with them a seperate suitcase of cylinders with which to fire from should their inbuilt systems ever take a day off. It's the culmination of two contract buyouts allowing them to produce the music they've always wanted to, and it's the perfect example of the best melodic hard rock and metal you'll find in 2013.
Absolutely fucking flawless.
10/10
Cheers,
S.T \m/